What is the Thriver Circle?
The Circle is a community of makers who are committed to building thriving, profitable, handmade businesses.
When you join the Circle, you join a passionate, positive, private community of makers from all over the world.
You also gain access to exclusive workshops, live calls, and community events that I've designed to help you make huge leaps forward with your creative business.
"I love being part of the Circle! It's wonderful to be able to seek advice from, be inspired by, and share experiences with an amazingly supportive bunch of people who genuinely get what running a handmade business involves." ~ Thriver Circle Member Dyani Evans 

 
Membership is Currently Closed.
Want to be notified when membership opens?
Yes Please!
Are you an insatiable learner who values guidance?
You know that crafting a successful business takes time, dedication, and a commitment to learning - every single day.
You love to learn anything and everything you can to help you grow your business... but sometimes, you get overwhelmed by the sheer volume of info out there on the web. How do you choose what to implement and what to skip over?
What if you had a place where other makers + creatives were sharing the very best info - telling you what worked for them, and what didn't - from personal experience?
What if there was somewhere you could go to learn - step-by-step - from someone who is just like you... but who has already built up a successful, ongoing craft business that supports her family?
That's exactly what you get in the Circle.
"I love the Thriver Circle! It's my go-to place for like minded creatives in handmade businesses. A place where I can share my wins and also the hard times, with people who will understand; be supportive and - importantly - often come up with solutions." ~ Thriver Circle Member Suzie Horne
Do you ever feel alone?
Crafting a handmade business can be a lonely affair.
So often, our family and friends really don't understand what we're trying to do. They just don't 'get it'.
We get it. Because we're just like you.
If you've ever felt alone in your quest to build a handmade business from home, the Circle is just what you need.
We're here whenever you have a challenge (like an unhappy customer). We're here when you have a question (are my product photos good enough?). We're here when you have a success (I just made $1,000 in a month for the first time!).
We're going through the same challenges as you. And celebrating the same successes.
"So glad I joined The Thriver Circle after doing the Set Up Shop course. It is the best place to find like-minded, creative people who love to inspire and support each other. Jess and team supply sooooo much practical information and resources to really help get you on your feet in home-based business. Can't recommend highly enough." ~ Thriver Circle Member Paula Priaulx
Hi, I'm Jess – Your Chief Mentor and Guide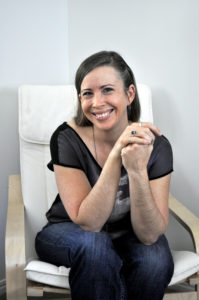 If you don't know me, my name is Jess Van Den, and I am a full-time maker as well as being a teacher and mentor to my fellow creatives + makers.
My own jewellery business - Epheriell - began as a hobby in 2008. In 2010, it became my full-time gig, and I left behind teaching to make a living from my own two hands. My husband Nick has since joined the business, and we enjoy working together in our solar-powered home studio every day, making jewellery to send all around the world - and making a good, profitable income from it, too.
I'm also the founder and editor of Create & Thrive, a website that helps people turn their handmade hobby into a full-time business. I created the Thriver Circle because I saw the need in my community for a positive, private place to connect, learn and grow.
This is a circle - and as such, we're all equal here. We're all learning, growing, and facing challenges every day with our handmade businesses. I'm not a guru - I'm just a woman like you who's a little bit further along the path, and passionate about helping others make their way up the mountain.
Within the circle, I share my best teachings in the form of monthly workshops, live calls, and challenges, and my job is to be your chief mentor and guide. You'll find me hanging out in the Circle whenever I can, helping my fellow makers. But I don't know it all - I am learning new things every day, just like you. Let's learn together - because as Margaret Fuller said: "If you have knowledge, let others light their candles in it."
"Jess, thank you for being so awesome. I am happy to be part of the community and grateful that I found you." ~ Thriver Circle Member Raun Norby
Membership Benefits
So, what do you get when you join the Thriver Circle?
With membership to the Thriver Circle, you not only gain the benefit of a strong, positive community of other people just like you - striving to grow their handmade businesses - you also get exclusive teaching & guidance only available to members.
1. A Positive & Supportive Community
This community is based in a private Facebook group - so it's easy for you to use and access. We are all ourselves in the Circle - no anonymous members or trolls in here!
If you've been yearning for a safe, private space, full of handmade business owners - both new and seasoned - with whom you can connect, learn from, and share your own discoveries, then the Thriver Circle is what you've been looking for.
All members must agree to abide by our Community Charter when they join - and anyone found to not have followed those guidelines will be asked to leave the Circle. It is a place for support, care, positivity and education - it's a Circle for those who are upbeat and serious about growing their handmade business - negativity and pessimism don't help anyone grow.
You are also, of course, able to ask questions, share useful information, ask for feedback etc. from your fellow members in the Circle at any time. This is YOUR space.
"

I love that there's a community of like-minded makers at my fingertips who are always there to support each other. No question is too big or too silly to ask! Someone has always been in the same position and is so happy to help.

" ~ Thriver Circle Member Jaime Nuske 

 
2. Your Year to Thrive - A Year-Long Program
I have brought together my 9 years of handmade business experience and created a year-long program, exclusively for Thriver Circle members.
It is 13 modules, 52 lessons - one lesson a week for an entire year.
I'll take you through everything you need to know and learn in order to start, grow, or reinvigorate your handmade business! You will begin this program the Monday after becoming a member of the Thriver Circle.
Find out all the program details here.
3. Monthly Workshops
At the beginning of each month, members will receive an exclusive workshop - available in video, audio, and written format - that they can access at any time.
New members will also gain access to all previous workshops when they join, and all members will retain access to all of them for as long as they remain in the Circle.
You can also request workshops on specific topics!
These workshops are not available to the public - they are for Thriver Circle members only.
If I was selling these workshops separately, they would be $75 EACH. 
There are currently (as of April 2017) $2,100 worth of workshops available inside the Circle... and you get access to ALL of them for a small monthly fee.
Currently available workshops 
(yes, these are available immediately to new members):
Upcoming Workshops

4. Monthly Live Business Intensive Call
Members will be able to nominate themselves for a live business intensive with me and other members of the Circle... which will be recorded for those who can't attend. Each call will have 2 of these intensives + a Q&A session at the end.
Each member chosen for an intensive will have 30 minutes with me and the other Circle members on the call focussed on them and their business. The recipients of the intensive will be drawn randomly from those who have put themselves forward that month - pledging that they will be attending the live call.
I will rotate the time of these calls each month so people in different timezones will be able to attend at least once every few months.
5. Twice-Monthly Live Chats in our Forum
Two times a month, I'll be hosting an hour-long live text chat in our Thriver Circle forum. This is an opportunity to connect with me and your fellow Circle members in real-time, and get feedback, questions answered, and have fun! Most chats focus on the topic we cover in that month's workshop.
6. Early Access & Exclusive Discounts
Whenever I launch a course or program, you'll get early notification. That means, if there are limited spots, you get first dibs! Not only that - whenever I launch a brand-new course or ebook, Circle members get a discount!
7. Member Profiles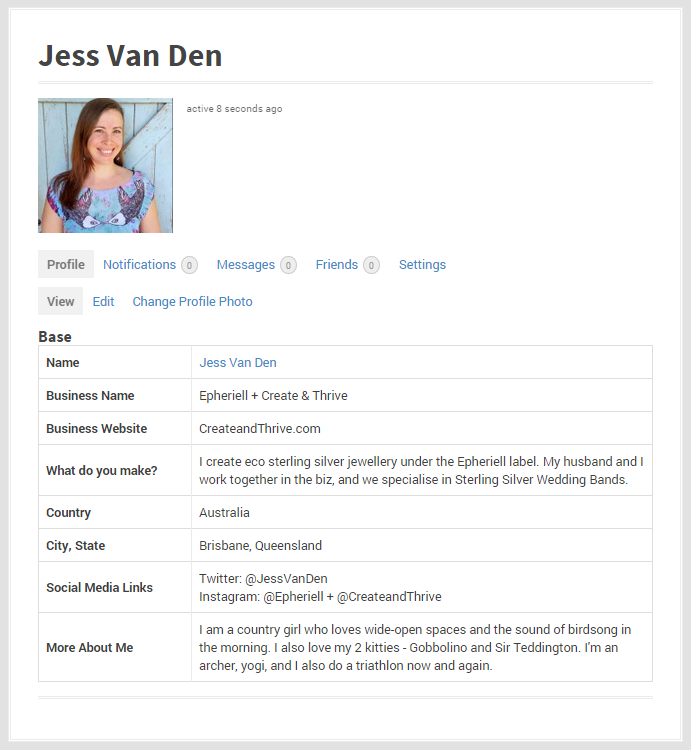 Each Circle member will have a private member profile visible to other members of the Circle, where you can list your name, business name, what you make, your website, your social media links, your city, state and country , and more about you (these are all optional). You can also friend other Circle members and send private messages - perfect for when you're working with a Buddy (more on that below)!
This makes it easy for members to find other members with whom they have things in common, and make connections. (Hey, you make ceramics and live in London too? Awesome - let's grab a coffee!).
8. Regular community events, such as:
'Buddy-ups' - where you nominate to be placed with a buddy so you can help each other out, one-on-one. This gives you the opportunity to grow a close, mutually beneficial relationship with a fellow Thriver!
Is the Circle for You?
0
You believe in collaboration, not competition. You know that by helping each other out, we can all be successful - there's enough pie for everyone.
0
You know success takes time and dedication. There's no such thing as a 'quick fix' when it comes to business - it takes patience and persistence to be successful - and it helps to surround yourself with other positive, proactive people!
0
You know that no matter where you're at in your journey, you have something to contribute. We've all taken different paths, and learnt different things - by pooling our knowledge together, we increase our chances of success exponentially!
0
You've been yearning for a safe space, full of people who 'get' you, to share your frustrations, successes, and 'aha' moments. We're all in this together!
How Much Does it Cost?
I'm a maker - just like you - so I know you don't have oodles of money to invest in your business. Chances are you're bootstrapping it as it is!
That's why membership to the Thriver Circle is just $15 (AUD) per month. No big up-front payment. No lock-in. Sign up for a month and see if the Circle is for you - if it is, your payments will be automatically deducted each month, and you can stay in our community as long as it is serving you. If it's not for you? You can leave any time.
For the price of a good magazine and a cup of coffee once a month, you can be part of a thriving community, learning together and supporting each other. You don't need to go it alone any more.
What Members Are Saying…
Great information! It's so obvious how much work and research you put into your Podcasts and Workshops.
I've actually unsubscribed to all my other similar groups and just do the Thriver Circle now.
Elise Butler
I am very happy that I decided to join the Thriver Circle.
It gave me the courage to register my business and confidence that I can do this! Even though I am in the very early stages of setting up my business, the information Jess provides and the support within the Circle have been invaluable.
Vera Brinkel
Loving the Thriver Circle for the community.

It's so great to know that there are others in the same boat. When any one has a question there is always some one with a solution or a suggestion. And I'm really learning a lot from everyone who is further a long in their creative journey than I currently am.
Joanne James
The workshops & group have been invaluable to me in learning things that are vital to a successful business.
Without Jess's help I wouldn't be using email to promote my business, I wouldn't have a clue about planning my year & seeing how that translates into daily task that are very easy to manage. Also the group as been great in helping me deal with awkward customers.
Angela Pyke
The Circle is here when I need support and encouragement, and it allows me to do the same for others.
I love it when we can 'brain-dump' ideas or thoughts related to our business and have other people who just 'get it'.
Donna Duncombe
Joining the Thriver Circle has been a real turning point in the development of my business. I've gained so much insight in the few months I've been a member and love the support and encouragement from the group. I would recommend it to anyone just starting out or who has been in business for a while as there is always something new to learn and a direction to grow in.
Tamsyn Simmonds
I'm so glad I joined the Thriver Circle.
I figured I'd join and see what it was all about and probably cancel after a month or two. Once I started getting involved though, I decided it was well worth staying on. Not only is Jess a wealth of knowledge, the suggestions and support from the other Thrivers is invaluable.
I wouldn't hesitate to recommend joining the Circle to anyone running (or wanting to run) their own crafting business.
Sarina Cunningham
A couple of days ago my Paypal was debited the $15 fee for the Circle.  I have enjoyed my experience with the group but funds are just so tight and I thought I might give it up.  Sometimes it was hard to find the time to join in the conversation.  I also hadn't had time to look at the monthly workshops, so I thought maybe I'll stop the payment.
WELL, over lunch yesterday I logged in to this month's Workshop on PR and was BLOWN AWAY with all the information you gave.
It was worth 100 times the piddly $15!  It just make so much sense to me, for PR, and the other couple I watched... once I'd done one I couldn't stop.
I've been saying for months to my husband that I need to do PR, and I think I'll get picked up because I'm so different but didn't know what direction to take, and now I know exactly what to do and where to start sending it to.  I'm compiling lists now.
The way you said that we would face rejection was comforting too as I don't cope with rejection well.  If someone unsubscribes to my newsletter I take it totally to heart and it lays me flat for days.  Now I know that it's not personal.  The content you suggest to write in the emails sits really well with me as does the plan for follow-up, I think on my own I would not have been able to face a follow-up, let alone know what to do with it.
And when I get my next $15 notification from Paypal I'll just smile 🙂
Donna Cains
SIGN UP!! Even though I haven't set up a shop yet, the sharing of information from the community is amazing! I am so happy that I joined the Thriver Circle! You won't see another bunch of talented handmade artists who are so supportive, encouraging and helpful!!
Adeline Tien
Jess I managed to listen to the first 2 workshops today and I had to say this publicly. This is amazing of you.
There is something very special about people who share in an unconditional way and pass on all they have learnt in order to lift other people up. There is no doubt in my mind that I'm on the right path and that I came across your sharing in order to keep going and learning along the way.
What I'm experiencing connecting with your info & Circle has boosted my drive even more & led to many a realisation that this is where I'm meant to be going. So thank you for the boost & the beginning of my wings!
Tanya Reeder
Hi Thrivers,
I just want to say THANK YOU.
An interview I did last month was published today, and in it I spoke about the importance of finding your tribe. Well: You're my tribe!
It's great to be able to duck in and out of this group for insight, inspiration, advice and just to feel like I'm not alone in all of this when some days just feel like I'm in struggletown: population zero! It's easier knowing we're all dealing with variations of the same things, and can offer support, guidance and hope. It is SO beneficial on this journey. I'm only 15 months into my business journey but there's been so much synchronicity, that I know I'm on the right path. Thank you for cocreating this journey.
Suzanne Cleary
I'm so, SO happy to be in this group. When I opened the email introducing the idea of the circle, I almost cried. Almost. You see I've been bumbling my way along the micro handmade business road for the last 2 year. Good bumbling, learning things the hard way (as is my wont), but I'm weary of it. I'll be 100% honest: I've spent more time trying to figure out how to make it work than I've spent actually making work to sell. Fear of making the wrong move has gripped me so hard. I'm trying to move past it.
I've done more to solidify what I want from this venture in the last few weeks than in the last 2 years, thanks in no small part to the #CT30Q series. Working through that series encouraged me to sign up for this group as seems to stem from a place of abundance rather than a place of fear, while offering real knowledge and growth instead of "all the answers" or a quick fix.
I can't wait to grow and learn with you all.
Sara Bistrian-Park
Join the Circle…
Membership is only open 4 times a year, for 72 hours each time.
The next membership window will be in July, 2017.
Membership is Currently Closed
Want to be notified when membership opens?
Click Here