You want a successful handmade business
You want to be part of a community of makers who 'get it' - and to learn from someone who has done what you are trying to achieve.
The Thriver Circle exists to help you achieve your dream of crafting a thriving handmade business.
So... what is the Thriver Circle?
"I love being part of the Circle! It's wonderful to be able to seek advice from, be inspired by, and share experiences with an amazingly supportive bunch of people who genuinely get what running a handmade business involves." ~ Dyani Evans
The Circle is a community of makers who are committed to building thriving, profitable, handmade businesses.
When you join the Circle, you join a passionate, positive, private community of makers from all over the world.
You also gain access to exclusive workshops, monthly projects, live calls, chats, and other experiences designed to help you make huge leaps forward with your creative business.
Are you an insatiable learner who values guidance - from your peers and from those who have achieved what you want to achieve?
You know that crafting a successful business takes time, dedication, and a commitment to learning - every single day.
You love to learn anything and everything you can to help you grow your business... but sometimes, you get overwhelmed by the sheer volume of info out there on the web. How do you choose what to implement and what to skip over?
What if you had a place where other makers + creatives were sharing the very best info - telling you what worked for them, and what didn't - from personal experience?
What if there was somewhere you could go to learn - step-by-step - from someone who is just like you... but who has already built up a successful, ongoing craft business that supports her family?
That's exactly what you get in the Circle.
"I love the Thriver Circle! It's my go-to place for like minded creatives in handmade businesses. A place where I can share my wins and also the hard times, with people who will understand; be supportive and - importantly - often come up with solutions." ~ Suzie Horne
Do you ever feel like you're going it alone?
Crafting a handmade business can be a lonely affair.
So often, our family and friends really don't understand what we're trying to do. They just don't 'get it'.
We get it. Because we're just like you.
If you've ever felt alone in your quest to build a handmade business from home, the Circle is just what you need.
We're here whenever you have a challenge (like an unhappy customer). We're here when you have a question (are my product photos good enough?). We're here when you have a success (I just made $1,000 in a month for the first time!).
We're going through the same challenges as you. And celebrating the same successes.
"So glad I joined The Thriver Circle after doing the Set Up Shop course. It is the best place to find like-minded, creative people who love to inspire and support each other. Jess and team supply sooooo much practical information and resources to really help get you on your feet in home-based business. Can't recommend highly enough." ~ Paula Priaulx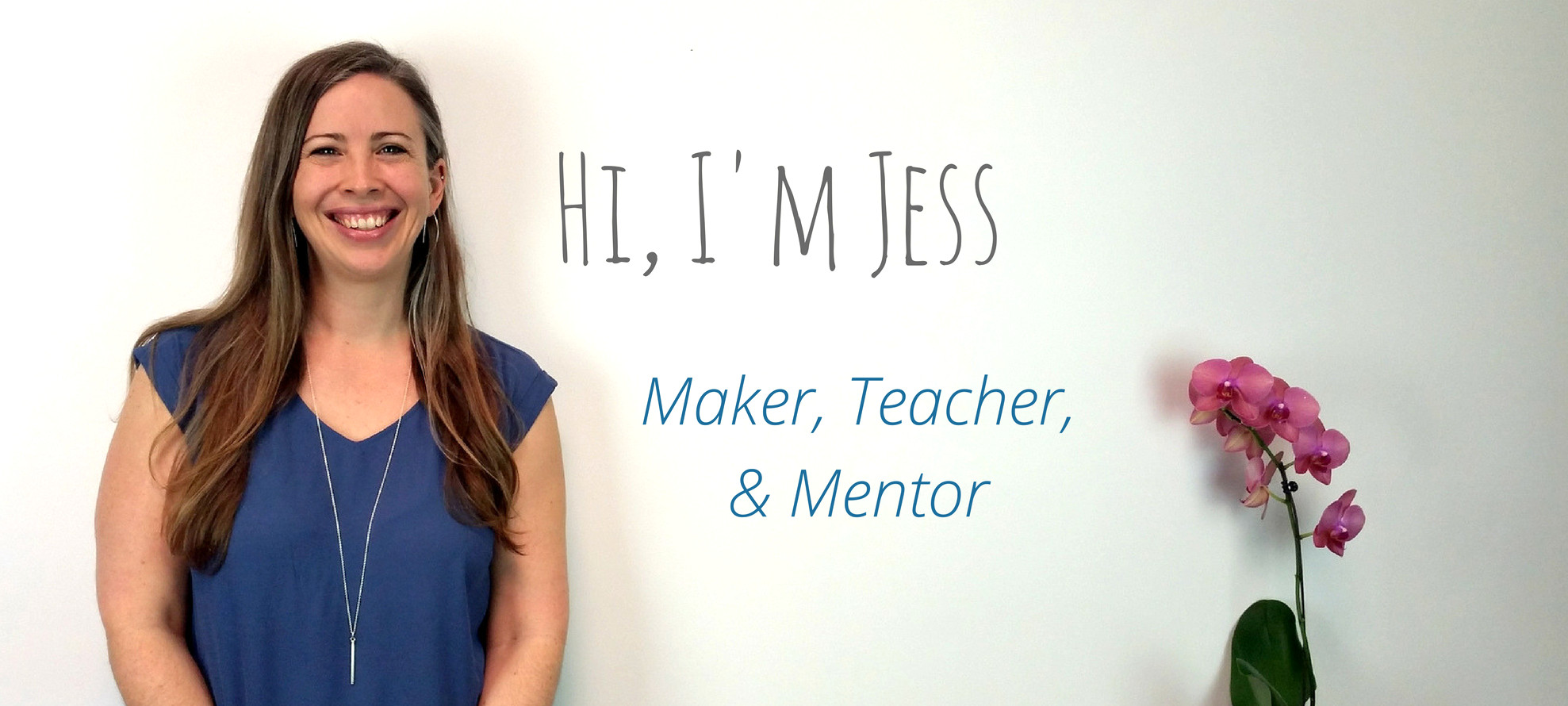 If you don't know me, my name is Jess Van Den, and I am a full-time maker as well as being a teacher and mentor to my fellow creatives + makers.
My own jewellery business - Epheriell - began as a hobby in 2008. In 2010, it became my full-time gig, and I left behind teaching to make a living from my own two hands. My husband Nick has since joined the business, and we enjoy working together in our solar-powered home studio every day, making jewellery to send all around the world - and making a good, profitable income from it, too.
I'm also the founder and editor of Create & Thrive, a website & weekly podcast that helps people turn their handmade hobby into a full-time business. I created the Thriver Circle because I saw the need in my community for a positive, private place to connect, learn and grow.
This is a Circle - and as such, we're all equal here. We're all learning, growing, and facing challenges every day with our handmade businesses. I'm not a guru - I'm just a person like you who's a little bit further along the path, and passionate about helping others make their way up the mountain.
Within the Circle, I share my best teachings in the form of workshops, monthly projects, live calls, and challenges, and my job is to be your Chief Mentor and guide. You'll find me hanging out in the Circle whenever I can, helping my fellow makers. But I don't know it all - I am learning new things every day, just like you.
Let's learn together - because as Margaret Fuller said: "If you have knowledge, let others light their candles in it."
"Jess, thank you for being so awesome. I am happy to be part of the community and grateful that I found you." ~ Raun Norby
So, what exactly do you get when you join the Thriver Circle?
With membership to the Thriver Circle, you not only gain the benefit of a strong, positive community of other people just like you - striving to grow their handmade businesses - you also get exclusive teaching & guidance only available to members.
 1. A Positive & Supportive Community
This community is based in a private Facebook group - so it's easy for you to use and access. We are all ourselves in the Circle - no anonymous members or trolls in here!
If you've been yearning for a safe, private space, full of handmade business owners - both new and seasoned - with whom you can connect, learn from, and share your own discoveries, then the Thriver Circle is what you've been looking for.
All members must agree to abide by our Community Charter when they join - and anyone found to not have followed those guidelines will be asked to leave the Circle. It is a place for support, care, positivity and education - it's a Circle for those who are upbeat and serious about growing their handmade business - negativity and pessimism don't help anyone grow.
You are also, of course, able to ask questions, share useful information, ask for feedback etc. from your fellow members in the Circle at any time. This is YOUR space.
"I love that there's a community of like-minded makers at my fingertips who are always there to support each other.
No question is too big or too silly to ask! Someone has always been in the same position and is so happy to help."
~ Jaime Nuske
2. Your Year to Thrive - A Year-long Online Progam
I have brought together my 9 years of handmade business experience and created a year-long online program, exclusively for Thriver Circle members.
It is 13 modules, 52 lessons - one lesson a week for an entire year.
I'll take you through everything you need to know and learn in order to start, grow, or reinvigorate your handmade business! You will begin this program the Monday after becoming a member of the Thriver Circle.
Find out all the program details here.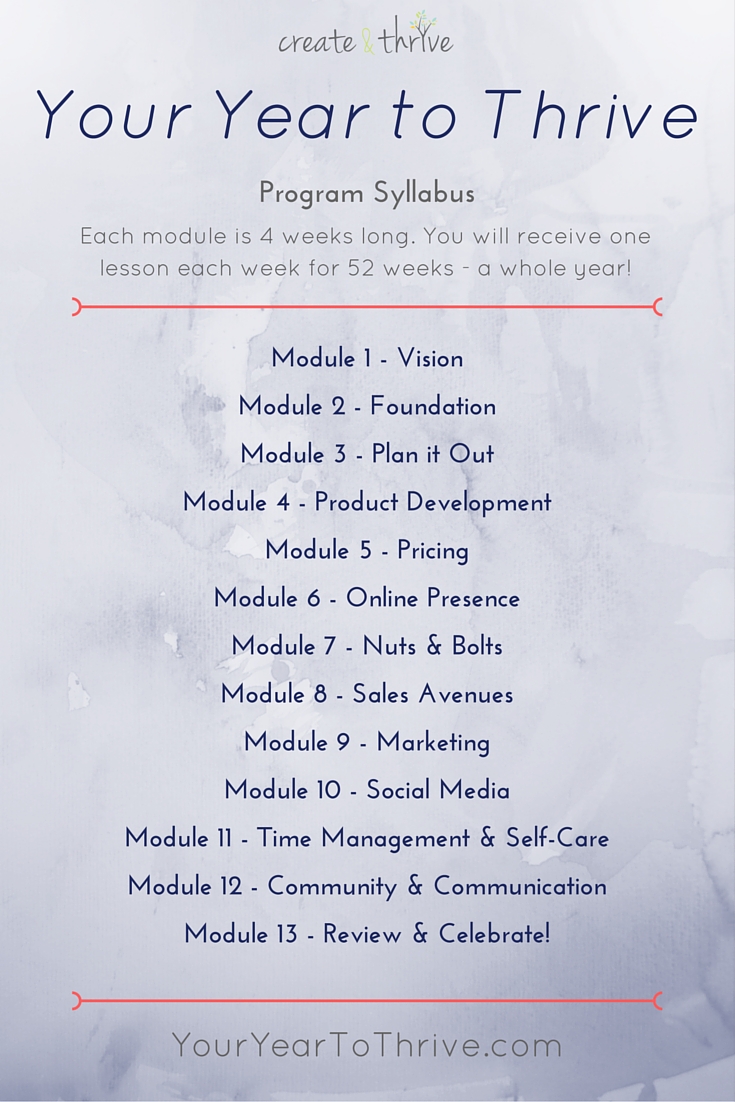 "I am very happy that I decided to join the Thriver Circle.
It gave me the courage to register my business and confidence that I can do this! Even though I am in the very early stages of setting up my business, the information Jess provides and the support within the Circle have been invaluable."
~ Vera Brinkel
3. 29 Video Workshops (& Counting)
As soon as you join the Circle, you get exclusive access to 29 handmade business workshops - available in video, audio, and written format - that you can access at any time.
All members retain access to the workshops as long as they remain in the Circle.
You can also request workshops on specific topics!
These workshops are not available to the public - they are for Thriver Circle members only.
If I was selling these workshops separately, they would be $75 EACH.
There are currently $2,175 worth of workshops available inside the Circle... and you get access to ALL of them for a small monthly fee.
Browse the Workshops...
Just click on each Workshop title below to read a summary.
This workshop is all about finding out your why - and how that will guide you in building YOUR ideal business, rather than the business you think you should grow, or the one other people are telling you you should grow.
This workshop is all about selling online (and a bit more, besides). I share 10 things you really need to get a handle on if you're going to grow a successful handmade business.
This workshop is all about Instagram.
I discuss a range of strategies to grow your following, your community, and give you advice on how to make your feed look superb.
This workshop is all about pricing.
I suggest a 2-step process to pricing. First, pricing with the 'Head' - which means crunching the numbers to see what you need to be charging in order to cover all your costs and make at least some profit. Then, pricing with the 'Heart' - using research, emotion and brand positioning to arrive at a final number.
This workshop is all about PR! What is PR?
Well, for us, it's simply the process of reaching out to influencers in order to encourage them to share our work with their audiences/communities.
Social media, blogging, and a mailing list are examples of marketing where we reach out to our own network. Using PR, we can reach out to someone else's network - and therefore expand our own (possibly rapidly).
In this workshop, I'm teaching you how to 'critique yo' self' - taking you through a process for self-critique of your own shop or website.
It can be really challenging to take a step back from our own work and look at it critically - we are, after all, very attached to what we do!
The goal of this workshop is to do just that - to try and look at your shop/website with fresh eyes, as if it were someone else's.
In this workshop, we're talking time management - specifically, how to better manage your time, energy, and attention, so you can be more productive, and live in a state of energised calm - rather than a state of stress and overwhelm.
This will not only help you to grow your business - it will make your life as a whole much more enjoyable!
In this workshop I share a number of ideas for gaining back time; I discuss how to gain more energy through better management of sleep, exercise, diet, and relaxation; and I share a number of time management hacks, strategies, and apps you can use to better manage your focus in the time you have.
So many of you have asked this question, so here it is! A workshop to help you choose the right online platform for your shop and/or website.
There are so many variables to consider, so I've aimed to take you through a number of them in this workshop, to help you clarify what you need out of an online venue, and therefore, which way to go.
There is no 'one size fits all' answer here, but I do give some advice at the end as to where I think you should start if you're a complete newbie, as well as sharing what I do with my own business.
This is a workshop that was requested a while back by a member of the Circle - what do you do when you fall out of love with your work, and lose your passion?
Well, there's no one-size-fits-all answer, but in this workshop I discuss:
- the natural ebb and flow of the creative cycle
- a few different ways to try and re-ignite your passion for your craft/biz
- failing that - how to decide if it's time to let go and move on to something new.
I hope this helps you if you come to a point (and it's very common) of lacking motivation and passion for your work at any stage.
Do you know who your Ideal Customer is? Do you even know who your current customer is - the demographic of the people who most often buy your products?
If not, this workshop is for you. We're going to cover what an Ideal Customer is; how to create a Ideal Customer Avatar that you can use to help you write all your business copy (blog posts, product descriptions, social media posts etc.); and how and where you can find and connect with your Ideal Customer.
If you ever find yourself struggling to connect with the people who want what you make - or if you struggle with the tone of voice and language to use in your marketing, this workshop will be super-helpful.
In this video guide, I take you on a tour around your Facebook Biz Page, highlighting all the important sections, and giving suggestions as to what you could do to make your page as appealing as possible to potential customers.
The point of doing a business plan is to help YOU get focus and direction, so that you can get clear on what you want your business to be, and how you're going to get there.
In this workshop I talk you through all the steps in the simple business plan I've created for you. You can download your own editable doc copy of it below, which you can use to plan the next 6 months and beyond!
I show you, in-depth, how you can use the #Top3Priorities method to plan the whole year ahead - from the year-view level, right down to the day-to-day. This is the method I use in my own planning - and I show you some behind-the-scenes of exactly how I do it - using Trello and Cal to help me.
I hope this workshop gives you a powerful way to get clear on what you want to achieve in the coming year, and helps you get and stay focused and organised - breaking your priorities down into actionable tasks.
I've put together a workshop on an absolutely vital, but not-so-fun topic - yes, bookkeeping.
This workshop is aimed at those who don't have a solid bookkeeping system in place, or who do a poor job of maintaining their bookkeeping on a regular basis.
I hope to convince you why keeping on top of your books is not only important for tax time, but also for the growth of your business in general!
I cover income, expenses, deductables; talk a bit about profit and loss; why you should separate your personal and biz finances; and give you a 'to-do' list to get you going.
This month, I'm going to show you exactly how to set up an effective boosted post AND a regular ad campaign on Facebook.
I start out discussing the benefits of advertising on Facebook (why it's the only advertising I do, and why I think it's a good choice for you, too), as well some dos and dont's when it comes to targeting and designing your ad.
This workshop focuses on helping you with your visual marketing.
I discuss 2 concepts - the 4 P's of Visual Content, and the Content Cycle.
The aim of this workshop is to help you understand the power of visual marketing; to give you a conceptual framework to use when it comes to creating/finding visual content to use to market your business; and how to best use that content in as many places as possible to maximise your marketing 'oomph' with minimal effort.
I've put together a workshop on the Pros and Cons of blogging.
I chose this topic because it kept cropping up over in the Circle FB group - people asking whether it's worth it to have a blog; what the point was in this age of social media; if there were any 'rules' about blogging; what to do if they didn't enjoy blogging... etc.
So, in this workshop I outline the Pros - the reasons why blogging is important for your business, and the Cons - the reason why blogging might not be for you, or why you might have been resisting setting up/running a blog for your biz.
In this workshop, I show you how to improve your Etsy shop SEO!
I cover both how to improve the ranking of your shop in Google, AND how to improve the visibility of your products within the internal Etsy search system.
If you don't have an Etsy shop - please do still take this workshop - a lot of what I cover will be applicable no matter what venue you use for your shop.
This month, I'm taking you through the process of getting started with email marketing.
I discuss:
why email marketing is still so important
how to set up a list using mailing list software - we're using Mailchimp
where to find the link to share with the world
exactly how to set up and send an email
some content ideas for emails
why unsubscribes are a good thing
AND I set you a challenge!!
In this workshop, I'm showing you how to use Google Picasa (or Google Photos) to edit your product photos.
It's free and easy to use, and should help you to speed up your editing - a process that can be quite laborious.
I also mention a secondary program you can use if you want more control over the editing process than Picasa allows.
This workshop is all about Pinterest. Specifically - how to get started, and how to ramp up your account if you've got one already.
This workshop is geared towards newbies and those of you still learning how to use Pinterest.
Do you have an unhealthy relationship with your email inbox?
Do you have piles of unread emails? Do you check your inbox day and night?
In this workshop, I want to help you overcome email overwhelm, and develop healthier habits for processing email - so, I'm going to teach you the method that works for me - Inbox Zero.
In this workshop, I discuss the whys and hows of making a video to market your handmade biz.
I thought it would be great to put together a self-care workshop where I share a bunch of strategies you can use to reduce stress and consciously relax.
I also discuss WHY this is so important to your overall health - why you might be feeling so very sick and tired - and how to move out of the 'red zone' of chronic stress into the 'green zone' of a relaxed, stable, natural state.
I've included a bonus download for you, as well - me taking you through one of my own favourite relaxation/meditation practices, which I use myself regularly, especially at night if I am having trouble falling asleep.
In this one, I've done a workshop for you on the power of social proof - and how to leverage that in your marketing.
Basically, this is the process of collecting feedback from your customers, then sharing that feedback on your own marketing channels.
There's a lot of detail in this workshop - I discuss the different types of social proof, as well as give you some tricksy ideas for where exactly to share it to make the most impact!
If you're just starting out with a mailing list, I recommend you first go and do the Intro to Email Marketing workshop, which covers the basics.
This new workshop assumes you already have a mailing list set up, you've been using it for a while, and you want to go deeper - to experiment in using strategies that will make your mailing list more effective.
I discuss things like segmentation, split testing, auto-responders and more.
I've created a workshop on a very important topic - because we are often our own worst enemies when it comes to making progress, and learning to overcome the negative, false things we tell ourselves is the key to moving forward with confidence.
In this workshop, I cover a number of strategies that you can use to combat negative thoughts, and grow that confidence!
So - you want to get your world out into the world via brick & mortar shops. But how?
In this workshop, I give you the steps you need to take to land your first wholesale account!
If you've ever wanted to sell wholesale, but didn't know where to start or what to do, this workshop will get you started.
In it, I cover things like doing your research, your linesheet, terms & conditions, how to reach out to potential stockists, and the process of selling to them, as well as the packing and shipping part of the equation.
This workshop is an exercise in introspection - confronting and clarifying your own personal stories around money.
Why? Because the stories we tell ourselves about money have a huge impact on the success of our businesses. If we don't value ourselves, or our work, we end up undercharging and damaging the prospects of growth.
But, more than that, how you feel about and act towards money can have a huge impact on how you feel, and the decisions and risks you take in your life and your business.
So, this workshop is for everyone, yes, but I created it specifically for those of you who have internalised negative money stories that might be holding you back from having the successful business you could have.
"The workshops & group have been invaluable to me in learning things that are vital to a successful business.
Without Jess's help I wouldn't be using email to promote my business, I wouldn't have a clue about planning my year & seeing how that translates into daily task that are very easy to manage. Also the group as been great in helping me deal with awkward customers."
~ Angela Pyke
4. Monthly Projects
Each month, we undertake a project - each person working individually on their business, and being supported by me and the other Circle members.
Each project is a small, specific task that will improve your business in some way, and that can be completed within the month-long timeframe.
Examples of projects:
Create 3 new products and get them into your online shop.
Clean up your email inbox and streamline your subscriptions.
Overhaul your About page.
Update your Facebook Business Page & keep it active.
Pitch your business to 3 media outlets.
Members can suggest future projects, too!
5. Monthly Live Call
 Once a month, Members will be able to nominate themselves for a live Business Intensive with me and other members of the Circle... which will be recorded for those who can't attend.
Each call will have 2 of these intensives + a Q&A session at the end.
Each member chosen for a Business Intensive will have 30 minutes with me and the other Circle members on the call focussed on them and their business. The recipients of the Intensive will be drawn randomly from those who have put themselves forward that month - pledging that they will be attending the live call & filling in a questionnaire.
I rotate the time of these calls each month so people in different timezones will be able to attend at least once every few months. 
6. Two Monthly Live Chats
 Twice a month, I host an hour-long live text chat in our Thriver Circle forum.
This is an opportunity to connect with me and your fellow Circle members in real-time, and get feedback, questions answered, and have fun!
Most chats focus on the topic we cover in that month's project, but any business topic is up for discussion.  
"Jess I managed to listen to the first 2 workshops today and I had to say this publicly. This is amazing of you.
There is something very special about people who share in an unconditional way and pass on all they have learnt in order to lift other people up. There is no doubt in my mind that I'm on the right path and that I came across your sharing in order to keep going and learning along the way.
What I'm experiencing connecting with your info & Circle has boosted my drive even more & led to many a realisation that this is where I'm meant to be going. So thank you for the boost & the beginning of my wings!"
~ Tanya Reeder
7. Member Profile
 Each Circle member will have a member profile visible to other members of the Circle, where you can list your name, business name, what you make, your website, your social media links, your city, state and country , and more about you (these are all optional). You can also friend other Circle members and send private messages.
This makes it easy for members to find other members with whom they have things in common, and make connections. (Hey, you make ceramics and live in London too? Awesome - let's grab a coffee!).
8. Early Access & Exclusive Discounts
Whenever I launch a course or program, you'll get early notification. And when it's a NEW course - you get a special launch discount.
That means, if there are limited spots, you get first dibs! Not only that - whenever I launch a brand-new course or ebook, Circle members get a discount! 
 9. Accountability Partner
Once you've been a member for a few months, you'll be offered the opportunity to be matched with an accountability partner. 
This gives you the opportunity to grow a close, mutually beneficial relationship with a fellow Thriver!  
The Circle is for you if...
You believe in collaboration, not competition.
You know that by helping each other out, we can all be successful - there's enough pie for everyone.
You know success takes time and dedication.
There's no such thing as a 'quick fix' when it comes to business - it takes patience and persistence to be successful - and it helps to surround yourself with other positive, proactive people!
You know that no matter where you're at in your journey, you have something to contribute.
We've all taken different paths, and learnt different things - by pooling our knowledge together, we increase our chances of success exponentially!
You've been yearning for a safe space, full of people who 'get' you, to share your frustrations, successes, and 'aha' moments.
We're all in this together!
I'm a maker - just like you - so I know you don't have oodles of money to invest in your business. Chances are you're bootstrapping it as it is!
That's why membership to the Thriver Circle is just $15 (AUD) per month.
No big up-front payment. No lock-in.
Sign up for a month and see if the Circle is for you - if it is, your payments will be automatically deducted each month, and you can stay in our community as long as it is serving you. If it's not for you? You can leave any time. I have deliberately chosen to keep the cost super-affordable so I can help as many people as possible gain access to this community & knowledge.
For the price of a good magazine and a hot beverage at your fave cafe once a month, you can be part of a thriving community, learning together and supporting each other.
You don't need to go it alone any more.
Does it matter where I am in the world?
Not at all! We have people in the Thriver Circle from all over the world. It doesn't matter where you live, or what timezone you're in, you can take part in the program.
What is $15 AUD in My Currency?
The currency conversion will always vary, but as I write this, $15 AUD is approximately:
$11.50 USD | 10 Euros | 9 Pounds.
To check the current conversion to your currency, visit xe.com.
Can I pay you for the whole year up-front?
No. There is no upfront option or discount available. I want everyone to be on equal footing, and that means paying by the month.
It also means that if your life changes, and you no longer want/need to continue your membership, you can leave without being out of pocket.
What if I join, but decide it just isn't for me? Will I get a refund?
You can leave the Circle at any time - no hassle, no problems.
No, you don't, get a refund, but you do get to retain access to the Workshops in the Circle for the full month that you've paid for. (E.g. if you joined on the 5th of a month, but you cancel on the 15th, you'll retain access until the 5th of the following month rolls around).
However, once you cancel, you will be removed from the YYTT program and the Facebook group.
Does the content in the Circle overlap with your other courses and guides?
There is some overlap with the other courses and guides I offer – especially YYTT & SHIFT (which I've currently put on hold).
However, if you've done any of my other courses, there will still be tons of content that you haven't yet covered in this program – and, vice versa, if you complete YYTT and then go on to do any of my other courses, you won't find yourself repeating much content.
My other courses are all very niche – meant to take you deeply into a particular topic, whereas YYTT is more over-arching and aims to cover everything – and therefore doesn't dive as deeply into those topics.
The workshops, of course, are not available anywhere else.
What happens if I leave the Thriver Circle before I finish the YYTT program?
If you cancel your Thriver Circle membership before you finish the program, you'll get the lessons up to the week you cancel, and then you'll stop receiving them.
What happens if I leave the Circle before I finish the YYTT program, then come back again later?
If you leave before you complete the program, then come back again in future… you'll have to start from the beginning again. I can't add you back in where you left off.
So please think carefully about leaving early if you really want to complete the program.
How will I access everything, and what format is it in?
To access the Workshops, you will simply log into the member portion of this site. They are all available on a 'Workshops' page, immediately upon completing your signup. Each workshop is available as a video to view, and audio and pdf slides you can download.
All the past calls area available for download on a 'Calls' page.
The Circle discussion happens in a private Facebook Group. This is where the monthly Project disucssion, the text chats, and the chat thread with the monthly calls happens.
For the YYTT program, you will receive each lesson via email – 1 lesson per week for 52 weeks.
How do the Calls work - will I miss out if I'm not in your timezone, Jess?
No, you won't. I'm going to be changing the times of the calls each month so people in different timezones will all have the opportunity to join in. It might not work for you every month, but it will every few months or so (unless you like getting up at 3am!). Because we're a global community, I'm doing my best to ensure no-one misses out.
If you can't make a call, you can submit a question to be answered during it (or just leave it in the Circle group on FB and tag me). As to how the calls actually work: 2 people will be featured (talking to me) during the Business Intensives BUT everyone who has dialled in will be listening, and will be able to 'raise a hand' to speak, and also write in a text chat any comments or questions. Then, after the 2 Business Intensives, I'll open the floor to Q&A questions for 1/2 an hour, and then other people on the call can ask a question in the chat, and I'll choose questions then 'un-mute' the person who asked it so we can chat.
Every call will be recorded for you to listen to afterward if you can't make it.
Jess, do I get one-on-one time with you as part of my Circle membership?
The short answer is no. If you are randomly chosen to be on one of the Business Intensive calls, then yes, you will, but that isn't something that everyone will have the opportunity to do.
I will be hanging out in the Facebook group whenever I can to give my input (just like everyone else), but as honoured as I am that you would like my personal advice, I simply won't be able to help everyone directly with their biz outside of these 2 avenues.
Is all of this REALLY only $15 per month?
Yes! ALL the amazing benefits of being a member of the Thriver Circle are yours for just $15 AUD per month.
More Feedback from Members
"I'm so glad I joined the Thriver Circle.
I figured I'd join and see what it was all about and probably cancel after a month or two. Once I started getting involved though, I decided it was well worth staying on. Not only is Jess a wealth of knowledge, the suggestions and support from the other Thrivers is invaluable.
I wouldn't hesitate to recommend joining the Circle to anyone running (or wanting to run) their own crafting business."
~ Sarina Cunningham
"Joining the Thriver Circle has been a real turning point in the development of my business.
I've gained so much insight in the few months I've been a member and love the support and encouragement from the group.
I would recommend it to anyone just starting out or who has been in business for a while as there is always something new to learn and a direction to grow in."
~ Tamsyn Simmonds
"The Circle is here when I need support and encouragement, and it allows me to do the same for others.
I love it when we can 'brain-dump' ideas or thoughts related to our business and have other people who just 'get it'."
~ Donna Duncombe
"Great information! It's so obvious how much work and research you put into your Podcasts and Workshops.
I've actually unsubscribed to all my other similar groups and just do the Thriver Circle now."
~ Elise Butler
"SIGN UP!! Even though I haven't set up a shop yet, the sharing of information from the community is amazing!
I am so happy that I joined the Thriver Circle! You won't see another bunch of talented handmade artists who are so supportive, encouraging and helpful!!"
~ Adeline Tien
"Loving the Thriver Circle for the community.
It's so great to know that there are others in the same boat. When any one has a question there is always some one with a solution or a suggestion. And I'm really learning a lot from everyone who is further a long in their creative journey than I currently am."
~ Joanne James
"Thrivers, I just want to say THANK YOU.
An interview I did last month was published today, and in it I spoke about the importance of finding your tribe. Well: You're my tribe!
It's great to be able to duck in and out of this group for insight, inspiration, advice and just to feel like I'm not alone in all of this when some days just feel like I'm in struggletown: population zero! It's easier knowing we're all dealing with variations of the same things, and can offer support, guidance and hope. It is SO beneficial on this journey.
I'm only 15 months into my business journey but there's been so much synchronicity, that I know I'm on the right path. Thank you for cocreating this journey."
~ Suzanne Cleary
"I'm so, SO happy to be in this group.
When I opened the email introducing the idea of the circle, I almost cried. Almost. You see I've been bumbling my way along the micro handmade business road for the last 2 year. Good bumbling, learning things the hard way (as is my wont), but I'm weary of it. I'll be 100% honest: I've spent more time trying to figure out how to make it work than I've spent actually making work to sell. Fear of making the wrong move has gripped me so hard. I'm trying to move past it.
I've done more to solidify what I want from this venture in the last few weeks than in the last 2 years, thanks in no small part to the #CT30Q series. Working through that series encouraged me to sign up for this group as seems to stem from a place of abundance rather than a place of fear, while offering real knowledge and growth instead of "all the answers" or a quick fix.
I can't wait to grow and learn with you all."
~ Sara Bistrian-Park